Inflatable Beach Toys Shops|Review of PVC vinyl air mattress designs|Beach and Pool Toy manufacturers|OKIP|Intex|Gre|Weilencke Spiel&Sport|Blue Sky|Pyraqua- | - Pool and beach toys in the UK - | - Standard heavy duty air mattress
Inflatables available in the South of France: beach toys, lilos, inflatable air mattresses, pool toys
Many similar items are now available in England UK and film companies can hire items from the webmaster's collection. The best inflatable shop is at the west end of the public beach: they have the best range and the best prices too. Other shops in Juan charge as much as double for the same things: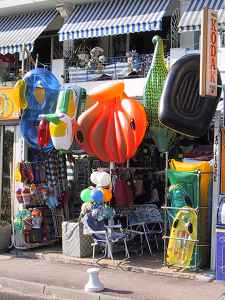 ANTIBES:
Centre of town: Place des Martyrs good range


On Place Nationale, Maxi Bazar has a good range and they sell a useful selection of other things too.

Between the Provencal Market and the Port Vauban - useful for the Gravette beach


On the way out of town to the Salis Plage this newsagent is popular but there are better


For the best range, quality and good prices go little further along opposite the main town beach on the way to the Salis Plage. They normally have inflatables on their awning. This shop normally has cheap and cheerful airmattresses for 35FF to the best imported by Loisiland and large tough

air matresses made by Sevylor for rather more up to 220FF. The shop sells swimming costumes and other swimming aids. They also stock inflatable sofas and crocodiles and they speak English - Plein Soleil Tel and fax +33 4 93 67 39 19


Opposite Salis Plage is a shop with a good range.


In the Petit Casino food shop on Cap d'Antibes the the webmaster was asked where one could buy inflatable toys for the beach . . . In fact near to the turning in the middle of the Cap up to the lighthouse, near the good restaurant and Glacier for lunch there is a newsagent with a good selection of canvas beach shoes and children's inflatables. No air mattresses however.
In Juan there are boutiques with a good range and sometimes more flashy transparent designs. You'll end up buying other toys for the children as well.


These shops normally have a good range of canvas beach shoes.

Types of Air Mattresses for the beach commonly available in the South of France. In England air mats, air mattresses are known as lilos whilst in America people refer to them as rafts or floats. Click here to buy pool inflatables / beach airbeds in England UK


The Blue Blanc range by Pyraqua. Thin, tough and good quality. Some were emblazoned "Royal Nautic Club" for those who wanted to pretend they owned a yacht! Commonly available in Juan and Antibes. The best place to get them is the good shop Plein Soleil near Le Salis. Email the webmaster for the telephone or fax number - they speak English. Around 85FF.


These double ones are useful for sleeping on - although one partner is vibrated by the movement of the other. Cotton on one side, PVC on the other. Tough but don't have the flexibility of old-fashioned rubberised cotton. Available in Juan and Maxi Bazaar. Click here for double airmattresses in UK


Looks good and comfortable. Other good quality looking Sevylor air mats have one air chamber including the pillow: this expands in the heat and the distorted shaps is less than useful. This one however does not look as though it has that problem. 100FF special end of season offer in Juan but otherwise you can expect to pay nearly double for a good quality one such as this.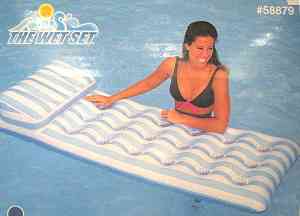 This sort made by Intex is one of the most comfortable in the market. Around 130FF. Sadly no longer made and only available very expensively in America.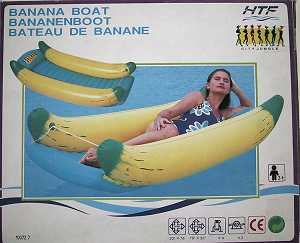 This banana boat is fun. With two air chambers on each side it's unsinkable. However, short of leaning off the front end and paddling, it's un-navigable. Wide enough and tough enough for a Large Heavy person - or to take a child with you for an adventure. BUT don't take it on the sea in a wind - safer for use on a pool. Believed to be out of production but near the camping sites at Biot there is an excellently stocked inflatables shop at the side of the road. On offer as an end of line item in Juan for 100FF, expect to pay 250 to 300FF elsewhere. This style of air mattress has a design problem - the webmaster had a similar Italian one once: the air tanks on each side tear away from the pillow. As soon as you see damage occurring, patch and glue it. A repair kit is often supplied with this type.


Weilencke Spiel & Sport - a popular make. This type is comfortable but it is one air chamber. It's good for riding the waves! Air matresses like these are available in England made by Sevylor imported from France


Blue Sky 18 hole air mattress. The window is brilliant for seeing the sea-bed. The Blue Sky sort is comfortable and the two chambers give one the ability to flatten the pillow: if you have a thin mattress on your bed with hard slats underneath, typical of popular French bed construction, a pair of these underneath (not inflated hard) will make it feel like a sprung interior mattress giving extreme comfort and a good night's sleep! Used at the beach they are tough and inflated hard are rigid and brilliant for riding waves.


This sort of Bly Sky 18 hole air mat is like the Intex below. From the illustration, perhaps the pillow might be better placed nearer to the end. However, the webmaster was not extravagant enough to buy one just to compare. Has anyone compared them? Email the the webmaster . . .
Here's a manufacturer that makes similar ones.
Also made by Blue Sky are these 1.9mx0.9m large transparent air mattresses:


Because they are glossy they are useless to sleep upon - but they are big, wide and comfortable for the beach and for floating on the water . .. and you can see fish through them. Similar ones are available in England

All of the following are available from Carrefour in the summer season and if you happen to be going there, can be worth considering:


Intex 18 hole air mat on the left. Not rigidly inflated these are extremely comfortable on the water. The pillow is not in the best place for reclining upon - perhaps turn it upside down for that and the plastic of the underside feels pleasantly soft - but "the correct way up", and on your front the pillow lifts you well out of the water to give a good view of the sea-bed and fish in front.
The one on the right is marketed as a "Tote 'n float", whatever that means. It's thin but provides a good support for floating on the water - but too wide if one likes swimming on top of a lilo. If you have a hard mattress, putting one of these beneath the sheets gives a soft luxurious cushioning. Taking these to the beach has a real advantage over a conventional air mat - you can take them inflated, rolled up.


Intex suntanner chair - floats. These are good as suntanner chairs or recliners but less than practical on water. The connecting strip is fairly fragile and one sees separate halves of them on the beach from time to time.


These Intex suntanner 4-tube design lilos are a good size, a comfortable shape and good in the water . . . However, not only is the top a transparent "glossy" surface but the silver underside is a glossy surface too - to which one sticks - so it's useless to sleep upon when camping . . . so cheap but not the best . . . Around 25 to 30FF at Carrefour. There is another sort of Intex air mattress which is a 5 tube design that is cheap (but often sold more expensively) and really nasty: it only has one inflation valve - the pillow shares the same air chamber as the body of the lilo. Because the pillow is a larger diameter, the surface pressure is a much greater pressure and it expands in the heat and expands and expands like a balloon. It ceases to be a pillow but a massive obstruction . . .


There is only one use for these lilos - although 2 chamber (ie the pillow is inflated independantly) are better - the most extraordinary use for a lilo . . . Defrosting a fridge! They are just the right width to catch all the water from the melting of the ice in a fridge . . . which one then collects in a paddling pool. Very good for collecting rainwater from leaky roofs in the loft!
Much better are these Intex air mats: -


These Intex 4 tube printed designs come in a variety of patterns - Looney Tunes Taz, flags and beach scenes. For around 23FF at Carrefour these are the best value in the south of France. The PVC is a pleasant to feel soft vinyl, thin but tough and very strong. Whether for floating on the water, sunbathing on or sleeping on when camping, they are excellent. Their thinness makes them lightweight to pack in a bag and they are very strong.
New in 2001 is a comfortable textured surface translucent model, slightly more expensive at around 30FF but sells in the boutiques in Juan for around 80FF


Shops that sell lilos inflated always overinflate air mattresses with compressed air. Normally this substantially reduces their life but not with these: in the heat they expand considerably and can end up 25% wider, longer and more comfortable than almost any other.
The best air mattresses, however, are not available in the South of France and only appear to be sold in Mallorca. They are slightly longer and wider than the Intex variety and are made by a Spanish company called "Gre". Large, tough and comfortable . . .

If you want a laugh, here's an air mattress of extreme rarity now - with Pamela Anderson printed on it! The webmaster's wife disowns him when he takes Pamela Anderson to the beach! But she causes a head or two to turn :-)
If you are a wholesaler or regional distributor and are looking for a manufacturer of inflatables, beach toys, lilos and air mattresses click here for OKIP in Hong Kong

Here are the best Beaches in the South of France to go to with your ordinary or your Pamela Anderson air mattress.

If you would like to rent a nice apartment or two in an old villa or anywhere else the the webmaster knows local owners and agents and can put you in touch. Please put Antibes Rental in the subject heading.

By popular demand . . . a UK supplier of . . .
THE MOBILE PHONE AIR MATTRESS

are available for around £10 in England from
C & N Raleigh Cycles, 67 London Rd, East Grinstead,
West Sussex, RH19 1EQ
Telephone 01342 311207
and can be obtained out of season. The shop also stocks the ride-on whale and 3 man boats. Also, if you're looking for an 18 pocket Intex air mattress or a dolphin ride-on another shop nearby often has them. Email the webmaster for the phone number..
HEAVY DUTY STANDARD BEACH / POOL AIR MATTRESS

Ideal for the pool, beach or for camping, it's a heavy duty (10 gauge rather than thin 8 gauge) 27 inches by 72 inches. Children like this size to play with in water as, whilst being wide enough to sleep upon, it's narrow enough for them to use their arms on each side to paddle with.


The box says "embossed" but in fact the surface is smooth without being glossy. If you are going to India where sheets are not well washed and the beds are very hard, then you'll find one of these a godsend and not heavy to carry whilst being durable. If you're going somewhere sunny and fear an airport delay . . . then one of these in your baggage could be useful!

£5 + postage. Email the webmaster if you want to buy one.
INTERESTING USES FOR INFLATABLES!
Air mattresses can be more useful than mere beach or pool toys. . . White ones serve as good photographic refelectors:


The photos of Polish ceramics and pottery for this shop in London were produced with such an arrangement.

Other uses include catching water from wide areas under leaking roofs and directing it into paddling pools! Do you find that defrosting a fridge is messy? Then use an airmattress (the cheap 4 tube design is best for this) with the pillow slightly deflated: put the air mattress into the fridge maximizing contact of the edges of the air matress with the internal surfaces of the fridge to make sure all the water is caught. Then put the other end of the lilo into a paddling pool and hardly any water will be spilt!

Does anyone else have unusual uses for inflatables? Please email the webmaster.
Here's a dehumidification tunnel drying out a spillage on a floor:

---
Here are uses referred to in unexpected places on the web:

Not Musical Chairs: Musical Mats! - Everyone knows that the Lilo character loves rock-n-roll, so your guests are sure to enjoy this version of Musical Chairs. Instead of chairs, use beach mats or beach towels laid out in a large play area. Use one less mat or towel than there are players and play some classic tunes (Elvis' Hunka, Hunka Burnin' Love is recommended.) When the music stops, players rush to sit on a beach mat. The player who is left without a mat is out of the game. Continue removing a beach mat each round until you have a winner! Click here to buy lilos for childrens' parties in England UK
---
The Thai lilo massage
"All men should experience a Thai soapsud massage before they die. But why trot halfway round the globe when all you need is soap, a lilo and a willing (preferably light) partner?
What to do: Jump in the bath together, grab the soap and work up as much lather as possible. "Then apply to the entire surface of a beach lilo," says Hooper. Next, cover the entire surface of your partner with the frothy white stuff and lie face down on the lilo. All she needs to do now is gently lie on top of you, wriggling up and down and from side to side in slow, slippery movements, using her entire body as a giant sensual sponge. "If you lose 'slipperiness' during the massage, simply apply more lather," suggests Hooper. Then turn over and let her do your front - which is where the fun really begins."
Click here to buy airmats to take on your honeymoon in England UK
---
---
Beaches | Hotels |Cafes | Camping | The Cap | The Quaint Streets, town centre and Old Town | Cafes | Cake shops | Chocolatiers | The Gardens of Eilen Roc | From the Air | Ice Cream shops | Last minute Mediterranean Holiday availabilities and opportunities | Juan Les Pins | Local bus services | Maps | the Ports | The Markets | Museums | Real estate and property to buy | Shops (no ordinary places) | The Town Squares | Tourist Information Offices |

.
.
.
.