Sevylor inflatables and swimming costumes from Plein Soleil suppliers of beach goods in South of France
Some Sevylor items are available in the UK including Boa Buddies which are especially popular. We sell retail but can supply some of the following at nearly wholesale prices for large quantities. Sevylor is a world leader for inflatables, airbeds rafts and inflatable furniture. Inflatable items are also available in England from Sevylor UK Their quality is excellent and you are buying reliability and durability when you trust upon the Sevylor name.

Here's one of their very conventional French mattresses: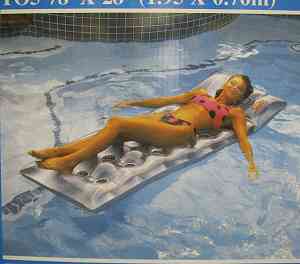 offering supreme comfort
Here are a couple of the inflatable chairs
which show considerable innovation in their design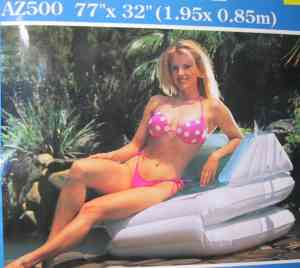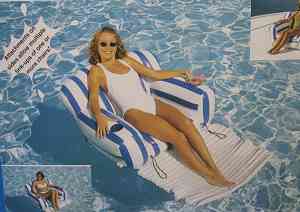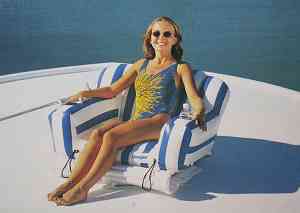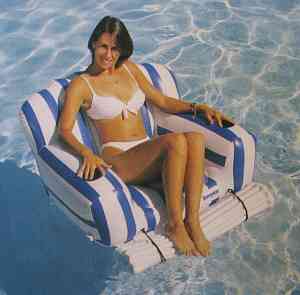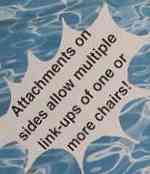 The Sevylor inflatable double sofa: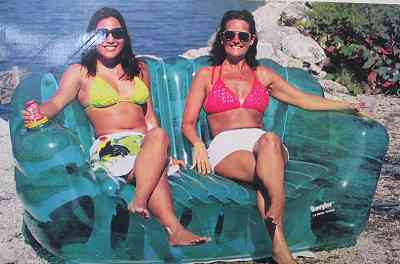 The double inflatable airbed is wonderful for a couple and great fun as a pool toy. It's best not used at sea as it's a challenge to manoeuvre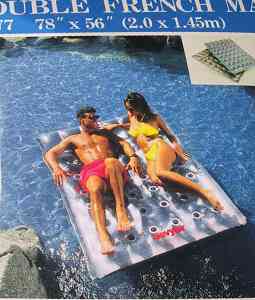 Here are the conventional Sevylor air mattresses: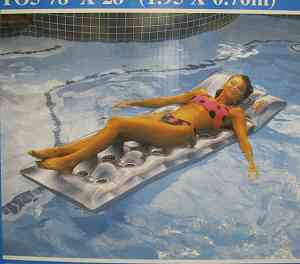 and this one has a window for viewing the sea bed: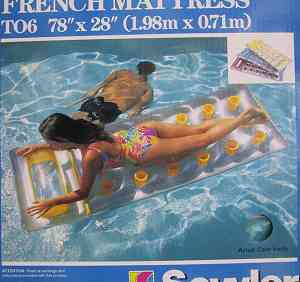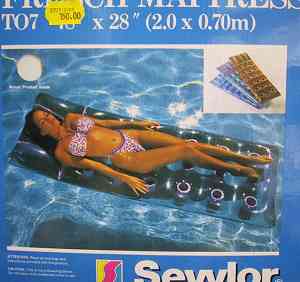 As is typical of the firm's products, they also aim for shockingly different styles and a certain chic in their design. Here's one that offers supreme comfort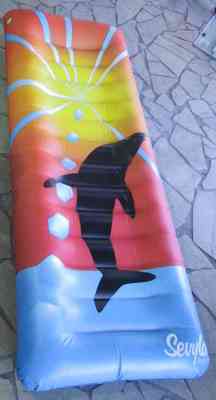 whilst this Sevylor air mattress aims for the fashionable with a deep crystal transparent blue design that is simpy the coolest inflatable thing to be seen on water: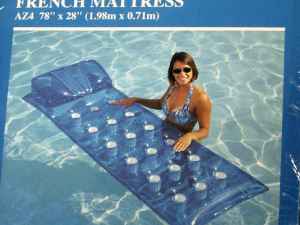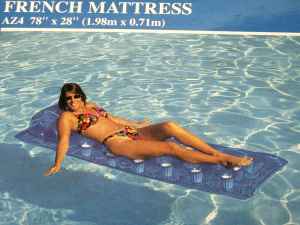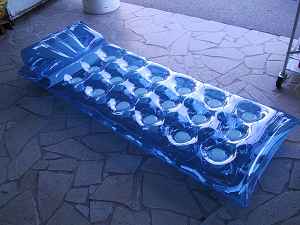 We stock these made by Loisiland: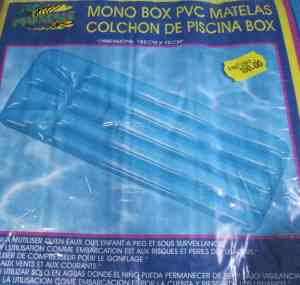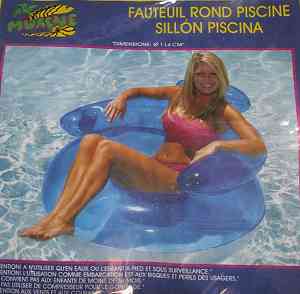 Please contact:
Plein Soleil by email sevylor@antibes.co.uk or by mail fax and phone at 26 Boulevard Marechal Leclerc, ANTIBES 06600 FRANCE - Telephone 04 93 67 39 19 - +33 4 93 67 39 19
If you are in Antibes, we are on the right coming out of town heading for the Salis Plage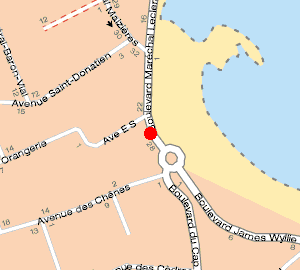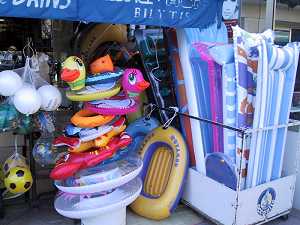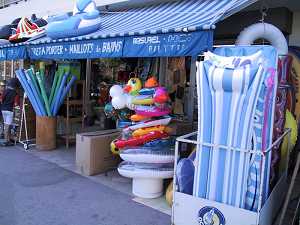 If you are wanting air mattreeses for the pool, beach or camping in the UK please click here



---
Beaches of the French Riviera | Hotels in Antibes |Cafes | Mobile Homes at Antibes | The Cap d'Antibes where the webmaster can put you in touch with the owners of an old villa to rent | Nice from the Air | Last minute Mediterranean Holiday availabilities and opportunities | Real estate and property to buy in places for sunbathing | Self catering accommodation in France Italy Spain Balearic Islands and Greece near beaches to enjoy your lilo! |

We're proudly celebrating 20 years of marketing holiday rentals! Our clients are reliable and we like to help




About enquiring from this site . . .


Will going away on holiday ever recover from Brexit? Somewhere in the page above you'll find an "CLICK TO ENQUIRE" button or a straightforward email address on which to click. PLEASE NOTE:
When enquiring PLEASE PROVIDE A TELEPHONE NUMBER. E-mail is not 100% reliable, so without a phone number our clients have no alternative means of contacting you. Enquiries go straight to the owner of the rental or property for sale . . . so if you are enquiring about more than one rental villa or apartment for sale or rent, please send an enquiry individually relating to each property. Except for pages for a minority of clients, your enquiry is not going to a letting agency for all the properties in a region - you are booking direct with the owner . . . and for the reason below, we feel that you can have confidence in doing so.



As webmasters we are not acting as agents but are publishing what our clients have asked us to market for them.

We expect that you should have a good experience buying a property for sale or booking a holiday rental through our clients, and if you don't (very rare), we like to hear about it! We beleive that you can have confidence in booking your holiday with our clients.


STOP PRESS!
Stop press: BRAND NEW VILLA FOR SALE near Grasse at St CÚzaire. 4 bedrooms two bathrooms, spacious living room and double garage 619,000Eu


Villas and apartments for sale - Villa and apartment rentals in Spain - Villas and apartments to rent in Mallorca Majorca Menorca and Ibiza - Villa and apartment vacation rentals in France - Antibes - the gentle Riviera tourist destination

BE PREPARED! - Travel comfortably: - if you're going to the beach or camping
- or if you fear an airport delay -
pack a lilo in your luggage.


If you have a property to sell or let for holidays in UK, Spain, Balearics Islands, France, Greece, Italy, Turkey, America, New Zealand... indeed anywhere in the world email the Webmaster david@antibes.co.uk DO NOT SEND .zip ATTACHMENTS. Please DO NOT SEND HTML EMAILS AND ATTACHMENTS: they are blocked through our servers.

Holiday rentals with current holiday availability
You could do something different and take the children on holiday near an organ rather than a beach. You'll never want to fly on holiday again having read Airline SCams and Scandals

If you are buying a holiday property for sale we choose interesting places! If you're escaping Brexit you might need plastic boxes to move things with . . .




<!-?delete this text and the questionmarks leaving just antibes.co.uk after the @?->