Petite Plage on the Garoupe Beach - wonderful sandy family beach in the south of France on Cap d'Antibes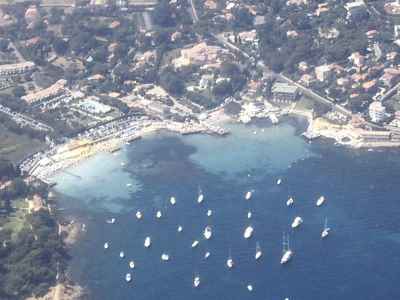 Whilst flying into Nice on the French Riviera you'll notice a secluded and special beach on the Cote d'Azur. It's called the Garoupe Beach and not only is it sandy but it's sheltered from the wind and, facing East, you don't have the glare of the sun in your eyes. In it's own bay



is the Petite Plage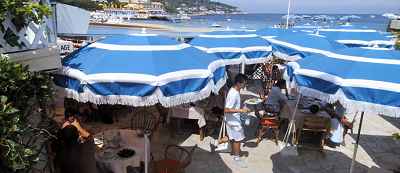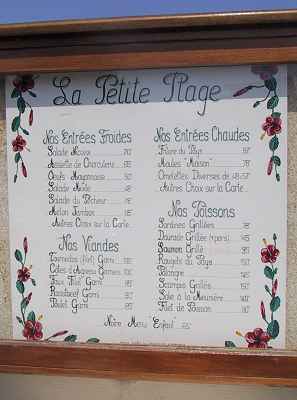 where you can eat well



and relax in the sun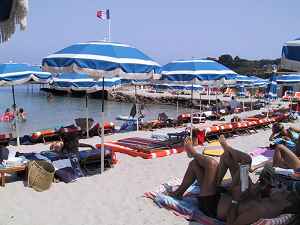 This beach is really special because the bay is shallow (but deep enough to swim in) and as a result the water warms up well - and swimming in warm hot seawater is the webmaster's real pleasure. Because it's shallow it's wonderful for children to wallow, paddle, swim and play in.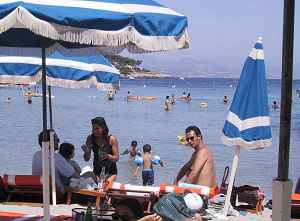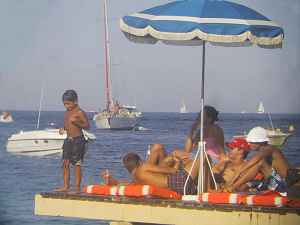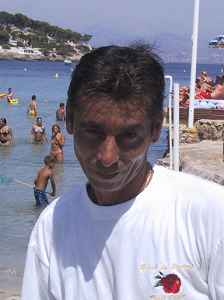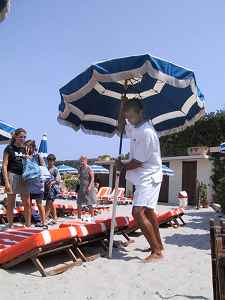 There's a net over which ball games are played. Although the bay is the most sheltered beach on the Cote d'Azur French Riviera, on the rare occasion when the wind whips up some waves, the shallowness makes them really exciting and comparatively safe to enjoy surfing on with an air mattress.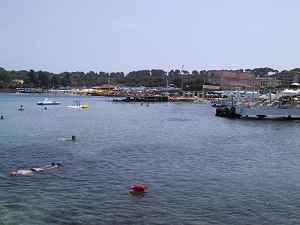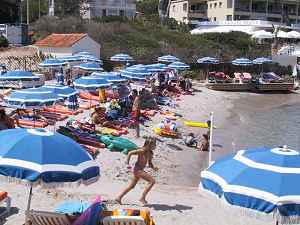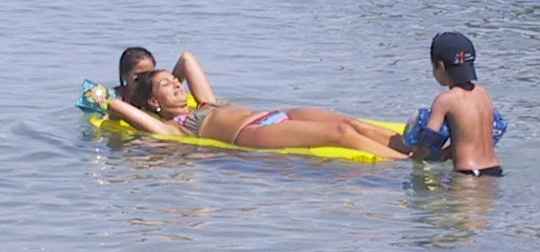 If you don't like getting sand between your toes, then Le Rocher next door may be for you . . . and they also serve meals in the evenings.


If you want an apartment or villa nearby email the webmaster. It is a wonderful part of the world for a holiday and the best place on the French Riviera Cote d'Azur.

Villas and apartments to rent in France and Spain: Spanish vacation rentals pages - French holiday property to rent pages. There are also a variety of other countries including Greece listed at the bottom of the file

---
Beaches | Hotels |Cafes | Camping | The Cap | The Quaint Streets, town centre and Old Town | Cafes | Cake shops | Chocolatiers | The Gardens of Eilen Roc | From the Air | Ice Cream shops | Last minute Mediterranean Holiday availabilities and opportunities | Juan Les Pins | Local bus services | Maps | the Ports | The Markets | Museums | Real estate and property to buy | Shops (no ordinary places) | The Town Squares | Tourist Information Offices | Villas and Apartments to rent in France and on the French Riviera |

.
.
.
.