The beaches of Biot and La Fontonne on the French Riviera sur le Cote d'Azur.
Biot
The beaches are as good as most along the Cote d'Azur at Menton, Nice, Cagnes Sur Mer, and Villeneuve Loubet: pebbly. You can have a good holiday here. However, we would not produce a website about merely ordinary places and beaches . . . :-)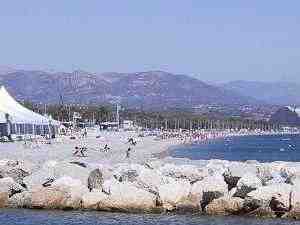 (photo from brochure)
It's near Antibesland, Marineland, a wonderful tourist waterworld. In the centre of the photograph you can see the ancient towers of the old Fort and town whilst on the left you can see the Peninsula of the beautiful Cap d'Antibes.
La Fontonne
La Fontonne region of Antibes (east end) in the South of France offers lots of cheap accommodation. The pebble beach is sandwiched between the open sea, a main road and the railway line but . . . it's a beach and there's usually sunshine!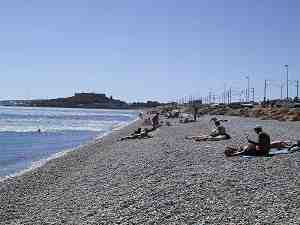 In the distance, 2km away, you can see the Fort Carre of Antibes
Come relax and stay at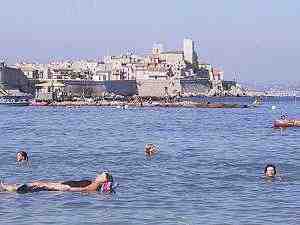 where you can truly relax!
Or you might dream of spending your holiday surveying this view . . .


SOS ! - Please help to save the Garoupe from being destroyed by bureaucracy

---
Beaches | Hotels |Cafes | Camping | The Cap | The Quaint Streets, town centre and Old Town | Cafes | Cake shops | Chocolatiers | The Gardens of Eilen Roc | From the Air | Ice Cream shops | Last minute Mediterranean Holiday availabilities and opportunities | Juan Les Pins | Local bus services | Maps | Menton | Nice | the Ports | The Markets | Museums | Real estate and property to buy | Shops (no ordinary places) | The Town Squares | Tourist Information Offices |

provides reliable internet services for businesses in Antibes and the French Riviera.