The sandy beaches of Antibes and Juan les Pins on the French Riviera - Les Plages dans Antibes et Juan les Pins pres de Nice et Cannes sur le Cote d'Azur.
ANTIBES: Old Antibes Town Gravette | Ponteil and Salis Plage | Juan Les Pins | Garoupe | Special Places | Even Eden
ANTIBES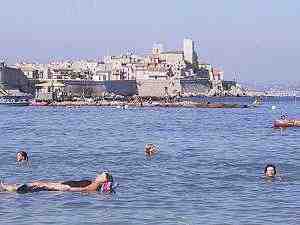 where you can truly relax!
SOS ! - Please help to save the Garoupe from being destroyed by bureuacracy

The beach at Vieil Antibes and Port Vauban: Plage de La Gravette
The Old Antibes beach which small, sandy, pleasant (but can be crowded), faces west into the sun. What is particularly nice about the beach is that it is sheltered from waves by a small breakwater and this enclosure makes it particularly safe for children.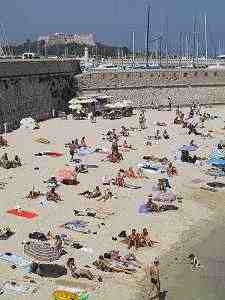 Antibes Plage du Ponteil and Plage de La Salis
The Plage du Ponteil and Le Salis beach is another 1.5 km further on - good, very big and crowded in the very height of season.
Here's the best place nearby to buy beach toys, swim rings and air mats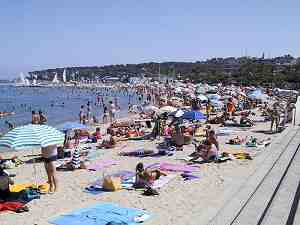 Plage du Ponteil: the bay has breakwaters so the water is very safe.

The Salis Plage looking towards the town
The Salis Plage looking towards Cap D'Antibes with the lighthouse on the right. This is at the height of mid-August.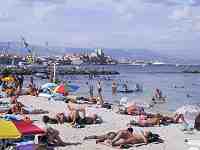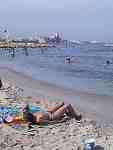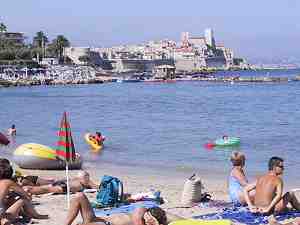 Normally there's much more space than in the August photograph!
Juan Les Pins
Juan les Pins is on the opposite side of the peninsular and the beach there is huge and popular and faces into the hot Sirocco wind. There are lots of placesHere selling beach toys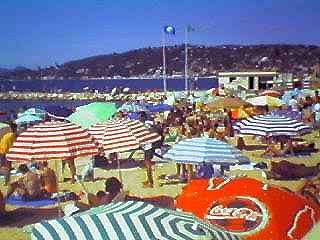 Juan in the height of August
Photos taken with a horrible Mustek digitak camera!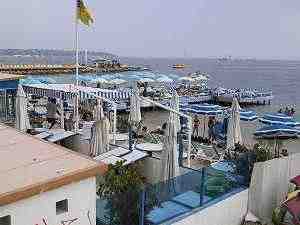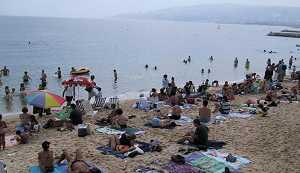 Juan slightly later in the month.

Please email the webmaster if you are looking for holiday accommodation near these beaches or perhaps a place to buy to experience the Riviera sunshine. However, we would not produce a website about merely ordinary places and beaches . . . :-)

Just imagine surveying this view towards Nice at Easter


Please click here to find out more about the Cap d'Antibes and the Garoupe beachbut SOS ! - Please help to save the Garoupe from being destroyed by bureaucracy

---
Beaches | Hotels |Cafes | Camping | The Cap | The Quaint Streets, town centre and Old Town | Cafes | Cake shops | Chocolatiers | The Gardens of Eilen Roc | From the Air | Ice Cream shops | Last minute Mediterranean Holiday availabilities and opportunities | Juan Les Pins | Local bus services | Maps | Menton | Nice | the Ports | The Markets | Museums | Real estate and property to buy | Shops (no ordinary places) | The Town Squares | Tourist Information Offices |

provides reliable internet services for businesses in Antibes and the French Riviera.